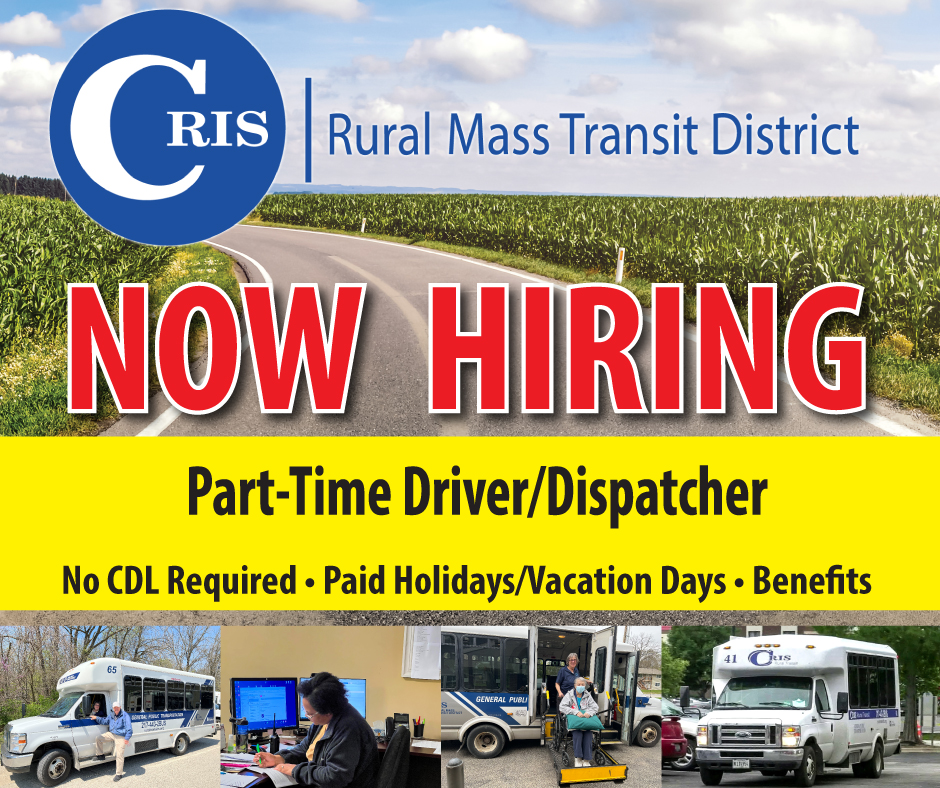 Now Hiring
CRIS Rural Mass Transit District
Part-Time Driver/Dispatcher
CRIS Rural Mass Transit is looking for an individual with an interest in working with the general public through transportation to join our team at our Transit facility. Our Transportation staff are client advocates that form ongoing, collaborative relationships with clients and local community service providers to help improve a person's lifestyle for the better.
Responsibilities:
• Excellent communication skills
• Work well with seniors and diversified clientele
• Ability to work flexible hours, ranging from 5:00am-7:00pm for M-F and 7am-4pm on Saturday, with a combination of days and evening, driving and office
• Implement COVID precautions, including but not limited to use of masks/gloves, performing temperature checks, practicing social distancing, and maintaining a sanitary travel environment
Minimum Qualifications?
• Demonstrate sensitivity, empathy, and cultural competency
• Provide compassionate service and care
• Be detail-oriented, organized, and accurate
• Commitment to a team environment
• Success oriented and goal driven
Required Qualifications:
• High School Diploma
• Must be 25 or older
• Excellent driving record
Successful Candidate will also have:
• A passion for helping others
• Excellent verbal and written communication skills
• A desire to learn and a positive attitude
• Valid driver's license with reliable transportation and insurance
• Flexibility
Benefits as a CRIS Rural Mass Transit employee:
• Accumulate 10 vacation days in 12 months
• 6 sick days earned on a monthly accrual
• 7 paid holidays per year.
• Individual Retirement Account with matching
Drug testing required.
Starting wage $16.00.
Apply in person at 615 E. Voorhees St., Danville, Il 61832 or fill out application below and send to: Nicole Dowling, CEO: [email protected]